Chances are you're always looking for ways to get a better workout, maintain a fitness routine, or even just get started with exercise. Aaptiv, the #1 audio fitness app, may be the perfect solution for you.
Here are 5 reasons why Aaptiv can transform how you work out.
Just ask our customers. With over 10M app downloads, 50,000+ 5-star reviews and 4.8/5 stars from 37,000+ ratings on the App Store, Aaptiv delivers effective workouts that drive results for real people: 
"I LOVE Aaptiv. It has changed the way I workout completely. I am much more accountable to my workouts when I have a "trainer" in my ear. The app is easy to use and so accessible." – Michaela (Aaptiv Member)
"I've always loved spending time in the gym, but it's never felt more productive than now." – Business Insider June 25th, 2018
"Amazing workouts that make me wake up at 5 am… always looking forward to my Aaptiv morning routine. Feels like you have your personal trainer with you at any time… thanks so much." – Alia (Aaptiv Member)
2.You'll Get Personalized Workouts Tailored to Your Goals.
You tell us your fitness goal, what kind of workouts and music you like, and how long you have to work out. Then, Aaptiv will recommend workouts that you'll love, all available right on the home screen of the app.
Aaptiv even has structured programs designed to help you achieve specific goals in 4 to 10 weeks. You'll get a training schedule, built-in progress tracking, and all of the workouts in one place.
Take the quiz to get hundreds of recommended workouts tailored to you.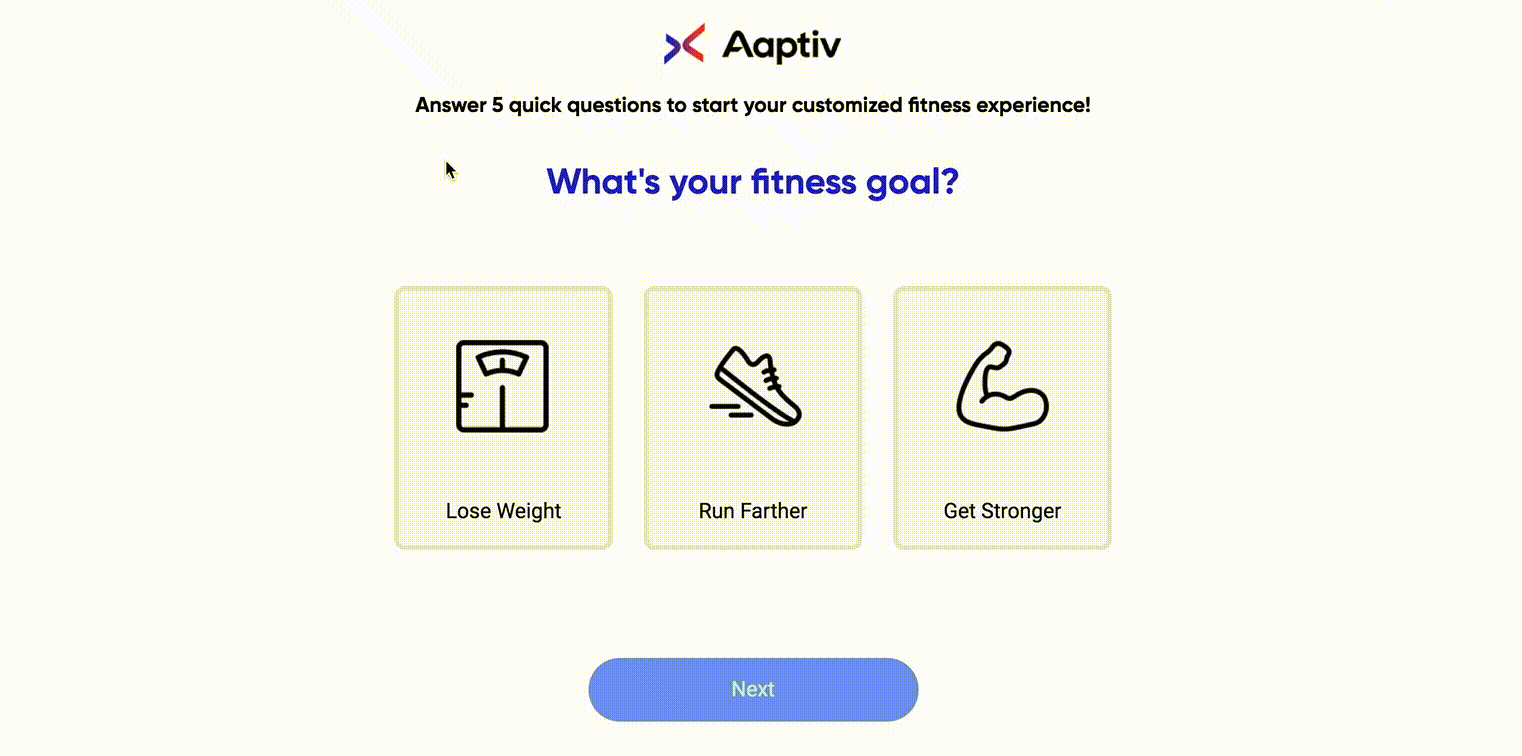 3. You'll Love the Music (And Probably Already Listen to It).
It's hard to stay motivated during your workout without great music. Aaptiv trainers pick from hundreds of thousands of songs to design workouts that will get you pumped up and push you to work harder. You can even filter or search Aaptiv workouts to only the music you like.
Skip the lame exercise DVD music and instead work out to Cardi B, Kygo, or throwback music in our N*Sync and Britney-themed workouts. Sample a class below (sound on!):
Get 30 Days Of Free Training >>
4. You Won't Get Bored.
We've all been there – same playlist, same dreadmill, same old routine. While consistency is key to success, keeping things fresh and new is vital to staying motivated and avoiding a plateau.
Aaptiv has 2,500+ on-demand workouts across 12 categories like Running, Elliptical, Strength Training, Cycling, and more. Plus, Aaptiv adds 40 new workouts every week, so you'll always have new workouts to try and can give feedback directly to the trainers on what you want to see next.

5. It Will Fit Your Lifestyle
You're busy, tell us something we don't know. All Aaptiv workouts are on-demand – you play them where you want and when you want. You can even download workouts in advance, in case you don't have wifi or great service where you're working out.
Plus, Aaptiv has hundreds of shorter, 7-15-minute workouts if you don't have the time for a full workout.
Want to see for yourself why Aaptiv is the #1 Audio Fitness app? Get started today and get 30 days of free training.